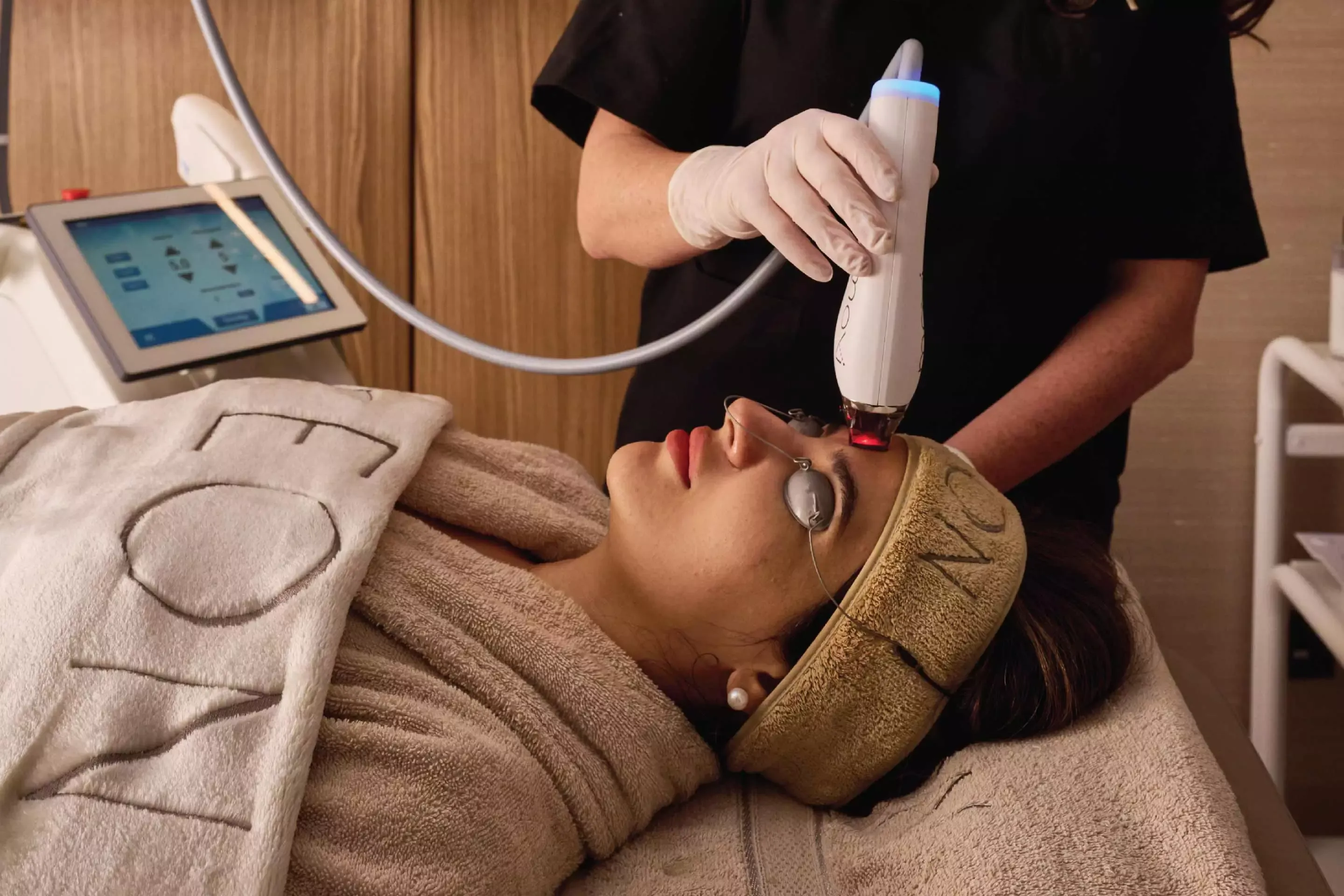 Skin Rejuvenation Treatments
BBL (Broadband Light Therapy)
Combined with HydraFacial, our BBL treatment by Sciton uses intense pulsed light to make your skin look more vibrant and youthful. The broadband light energy is not only extremely effective in eliminating brown spots, age spots and pigmentation but it has also been shown to alter cellular DNA associated with aging. This treatment is also effective in treating skin texture, acne and rosacea.
Radiofrequency Microneedling
Morpheus8 by INMODE is the most advanced form of microneedling combined with radiofrequency to lift, contour and tighten skin. Morpheus8 sculpts and remodels subcutaneous fat and tissue, stimulates collagen production and induces skin rejuvenation.
Thread Lifting
Using Silhouette Soft, Thread Lifts are a popular anti-aging and skin rejuvenation process that uses temporary sutures to produce a visible lift. It can tighten your skin and give natural results whilst combatting signs of aging.
Non-Surgical Skin Lifting
The gold standard for non-surgical lifting and skin tightening, Ultherapy is the only FDA cleared, non-invasive procedure that lifts the neck, chin and brow, and improves lines and wrinkles on the upper chest through ultrasound technology.
Mesotherapy Facial
Combined with HydraFacial, our Mesotherapy treatments deliver a tailored and sophisticated cocktail of vitamins, minerals, antioxidants, amino acids and hyaluronic acid infused into the surface of the skin through Dermapen Microneedling. The treatment stimulates fibroblasts to produce new collagen and elastin, leaving your skin rejuvenated and glowing.
Laser Skin Resurfacing
Through its use of a fractionated wavelength, MOXI by Sciton delivers improved tone and texture to the skin with little to no downtime, as it features a gentle non-ablative laser that corrects pigmentation issues, poor texture, wrinkles and fine lines.
Hollywood Facial
Combined with HydraFacial, this gentle treatment harnesses the power of Q-switch laser to help even skin tone, reduce the appearance of pigmentation, fine lines and acne scars. The treatment can be performed alone, but works best when you have several treatments over a period of time.
Stem Cells Infusion Facial
This facial exclusively uses products from Ante-Age MD, a California cosmeceutical group focused on stem cell-based skincare. AnteAge MD's Microneedling solution contains bone marrow stem cells (cytokines extract), vitamins C and E, and a hydration-attracting hyaluronic acid base. The essence-like produce is rolled on after Dermapen Microneedling, helping to produce new dermal cells like collagen, elastin and fibroblasts.
Youth Infusion Facial
Combined with HydraFacial, our Youth Infusion Facial includes Aquagold microneedling, which uses 24 karat gold needles to evenly distribute a cocktail of Botox, Hyaluronic Acid and Vitamins across the entire face into the skin's deep layers. Results are rejuvenated and glowing skin, perfect before an event!